Nursery is the key link in melon planting. The growth of nursery is directly related to future growth.
Prepare nutrient soil: Use nutritious soil with Datian soil, fully cooked organic fertilizer, a small amount of chemical fertilizers and fungicides. Daejeon-tzu has never planted vegetables or cotton, especially if it has not used any herbicide. Daejeon's soil accounted for 60% to 70%, and then sieved. Organic fertilizer accounted for 30% to 40%, must be fully cooked before use, avoid using raw manure. Also sieving before preparation. In order to increase the fertility of nutritious soil, ternary compound fertilizer should be added in an amount of 2 kg per cubic meter of nutrient soil, and carbendazim or other insecticides and fungicides should be added to every cubic meter of nutrient soil to disinfect and kill the soil. insect.
Mounting: Fill the nutrient bowl with nutrient soil. Be careful not to fill it up. Keep it 2 to 3 centimeters away from the nutrient bowl so that you can store some moisture when you water it. After mounting, the nutrition bowl is neatly placed in the seedbed.
Seed treatment: Pour the seeds into water at 55°C, keep stirring, keep this temperature for 10 minutes, soak in seeds at 33°C, soak germinate seeds for 6 hours or so, and wrap them with hand towels. The buds were picked out and budding buds continued to sprout, most of which could be sown the next day. Pay attention to weather changes when germinating, require 3 to 5 days of good weather, do not pluck on continuous cloudy days
Sowing: In order to ensure sufficient moisture during the seedling period and reduce the amount of watering during seedling growth, sufficient water should be poured before sowing. Pay attention to the ground temperature and must be above 15°C before planting.
For the prevention of damping-off diseases such as damping-off and blight, seedlings are sprayed with 3000 mg of hymexazide wettable powder on the surface of the loquat before sowing, spraying approximately 1 kg per 10 square meters, and sowing the seeds immediately after spraying.
Put one seed in each nutrient bowl with the seed buds facing down or flat, and then spread evenly 2 cm thick moist soil on the seeds. A plastic arch shed was set up on the seedbed and the mulching film was placed on the seedbed so that the temperature of the seedling soil after sowing reached 25°C to 30°C. The daytime temperature does not exceed 35°C during the seedling period without ventilation, the soil temperature is maintained at 25°C-32°C, and is maintained at 17°C-22°C during the night. The minimum is not lower than 12°C in the early morning. The available hotline increases the temperature when the temperature is not reached. Higher temperatures can promote early emergence of seedlings.
Before the first true leaf is unfolded, it should be ventilated so that the temperature does not exceed 28°C to prevent the formation of tall seedlings. One week before planting, seedlings should be given more light to cultivate strong seedlings and promote flower bud differentiation. From the first 5 to 7 days before planting, the small sheds of the seedbeds should be withdrawn, the ventilation volume should be increased, the ventilation time should be extended, and the seedlings should be cultivated at low temperature. And pay attention to not watering at this time, in order to ease seedlings after planting.
When planting seedlings should have 4 to 5 true leaves, flat leaves, light green, more lateral roots, plant height of about 15 cm, the whole plant without pests and diseases.

Road Milk Tanker/Milk Tank truck
Product Description
LEO company is the only supplier use of air suspension technology manufacturing milk transport trailer in China market. We also have 40tons of fresh milk transport trailer special announcement. We strict implementation of LEO enterprise standards which is higher than national standards, and the Ministry of Agriculture through the identification, to ensure product quality, high security factory, allowing user safer and more economical use of the product. The product is widely used in New Hope Dairy, Chongqing Tianyou Dairy, Heilongjiang Wandashan Dairy, Shanghai Bright Dariy, Yili, Mengniu Dairy, Sanyuan Dairy, Bright Dairy, Shenyang Huishan, Beijing Zhongdi, Ningxia Jiujjiajiu milk transportation company(for Ningxia Mengniu, Yili, Chongqing Tianyou) etc.
Features:
1. semi-trailer classis with air suspension bridge, effectively reduce the chassis weight 2.8 tons, so that the vehicle is running more fuel-effcient and more economical; and the user of the rear axle air suspension make tanker traveling more secure.
2. Milk receiving and discharge, use electronically controlled pneumatic exhaust valve technology, driver in the cab can operate the process more convenient and more secure.
3. Manhole Cover with mechanical hard seal, instead of a rubber ring seal, reducing pollutions and avoiding freezing milk in winter times. Manhole cover and eliminating wearing parts.
4. Thicker insulation layer, insulation materials using polyurethane foam 100 mm, ensuring milk quality in long-distance transportation.
5. Tank partitions seal head conical seal head, impact resistance more stronger, effectively extending the service life of the tank.
6. Partition on both sides of the inner tank are large arc transition, which ensuring no cleaning blind angle in side tank. Milk tank body inner seal head with a radius of 30mm special mold spin forming,the interior of the partition using
7. Tank body polyurethane foam insulation layer by vacuum technology, thermal insulation effect is good, full volume temperature change within 12 hours temperature does not exceed 2℃. Insulation layer can be tailor-made to meet the insulation requirements of different customers.
8. Trailer type road Milk Tanker can use disc, ABS control system.
9. The technical requirements for Road milk tanker meet GB1589 triaxial vehicle standards, and to provide all the formalities to meet the requirements to circulated on road. Chassis through the 3C cerification, compliance with motor vehicle licensing regulations.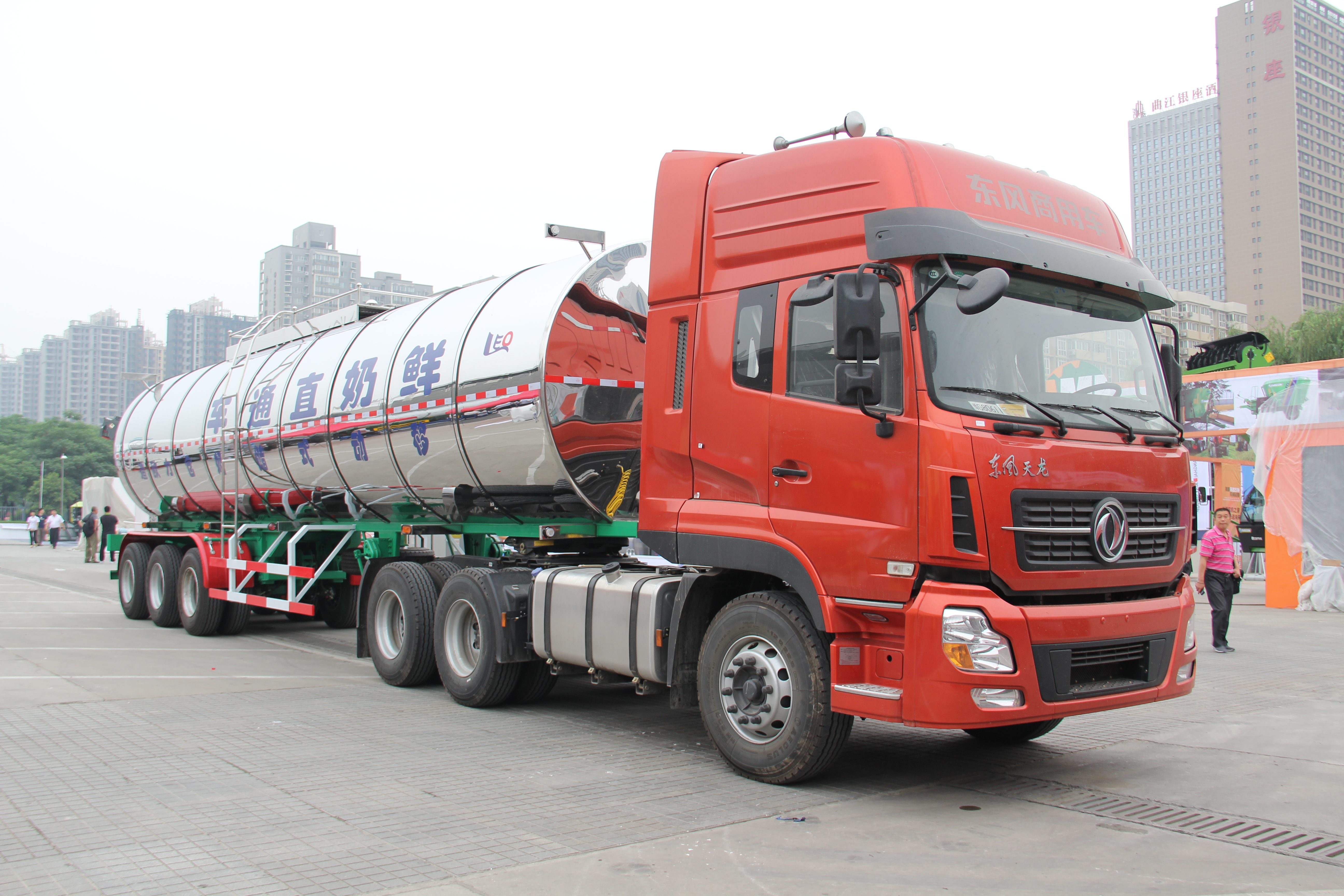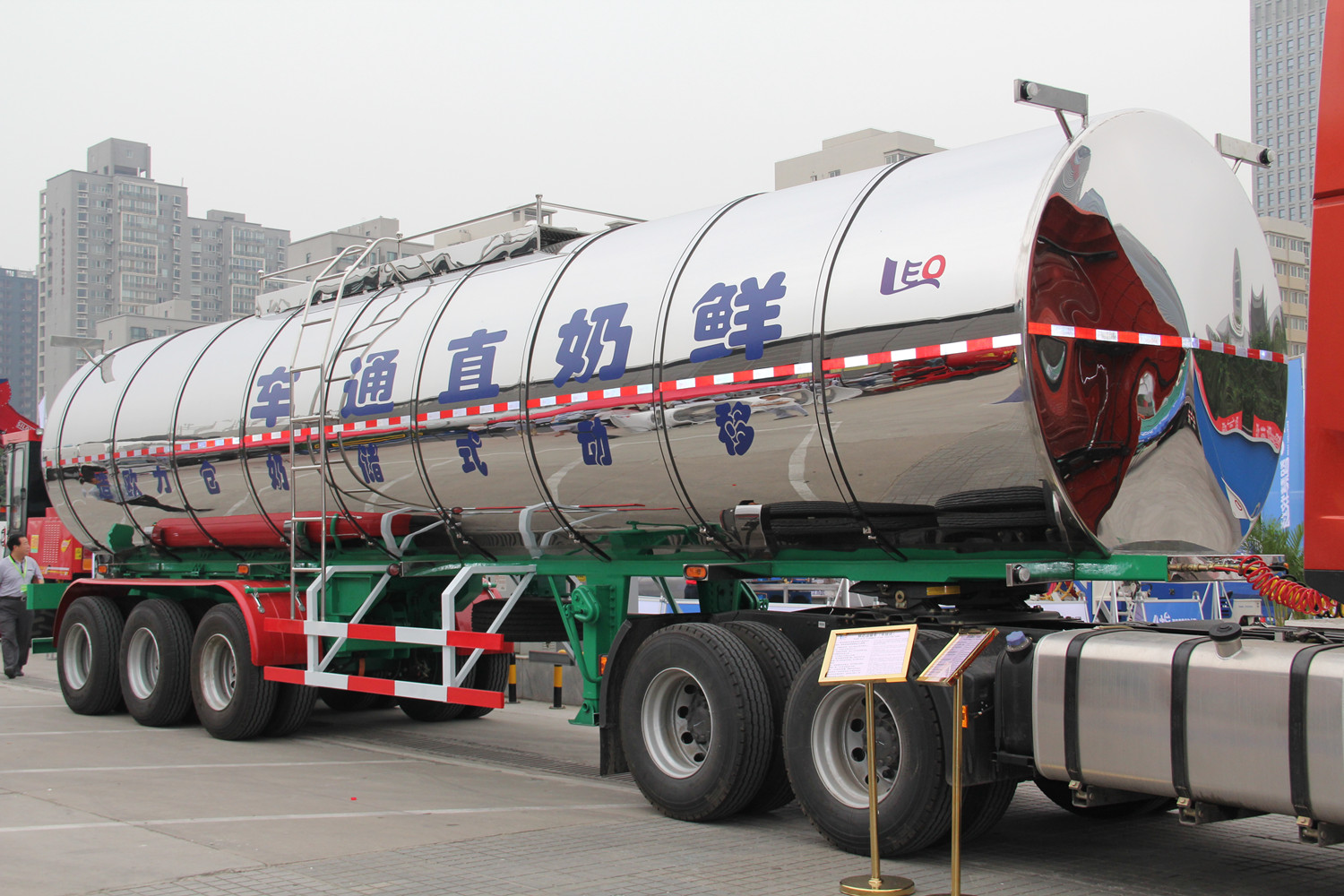 Milk Tanker Truck,Tank Milk Truck,Milk Cooler Tank Truck,Cow Milk Tanker
Henan Leo Husbandry Equipment Science and Technology Co.ltd , https://www.chinaleodairy.com